October 26, 2010
Hundreds of People Urged the Commission for a Strong Network of MPAs.
More than 700 Supporters Urge the CA Fish & Game Commission to Choose the Strongest Network of Marine Protected Areas for Southern California. THANK YOU TO ALL!!
First of all I want to thank every single person that came on Wednesday, October 20th, to the Fish and Game Commission meeting in San Diego in support of Marine Protected Areas. It was a sea of blue! Amazing turn out, about 700 California students, teachers, divers, surfers, scientists, fishermen, business leaders and ocean advocates came in support and to ask for a strong network of Marine Protected Areas for Southern California. Hundreds of students took some time from their school activities to come support ocean protection. It was easy to feel inspired by this generation of future leaders, ocean advocates, policy makers, that went to the meeting to have their voice be heard!

Also, we are all grateful to all the people that couldn't make it to the meeting but that wrote letters, signed petitions, or attended past meetings, and everybody that has been part of this process. It has not been easy but it is all worth it.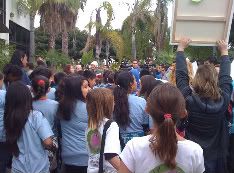 I want to also take this chance to say how proud WiLDCOAST is of all the children that spoke at the meeting in support of ocean protection, it is not an easy thing to do and it takes a lot of courage, they really are an inspiration. Also, thanks to the wonderful students from Southwest High that unfortunately didn't have a chance to speak at the meeting but were present with signs to show their support and that had a message to the commission: "They want the strongest network of Marine Protected Areas." Their presence meant a lot and they made a big difference, they ROCK!

The business community also showed their support by summiting written letter in support of the Marine Life Protection Act to the commission.

The Marine Life Protection Act will result in the creation of a network Marine Protected Areas off of the California's coast. These protected areas are like underwater state parks designed to protect California's most treasured ocean areas— such as South La Jolla, Point Dume, Laguna, Naples Reef, among other iconic places.

The final Fish & Game Commission meeting, where it will sign into law the network of marine protected areas in Southern California, will take place in Santa Barbara in December, so stay tune!

To read more about the meeting please check out these articles and posts in the CA Majority Report and in the North County Times.