September 13, 2012
Assemblymember Ben Hueso Kayaking San Diego's Underwater Park
WiLDCOAST and Assemblymember Ben Hueso enjoy a day of kayaking and wildlife viewing.
This morning WiLDCOAST took California State Assemblymember Ben Hueso and his staff on a kayak and snorkel tour of the Matlahuayl State Marine Reserve in La Jolla. First established by the City of San Diego in 1970 as the La Jolla Underwater Park, this area became one of the first no-take marine reserves in California in 1971.
A long-time supporter of WiLDCOAST's work to cleanup and restore the Tijuana River, Assemblymember Hueso is a passionate kayaker and is committed to making sure our coastal ecosystems are protected and healthy. Just recently he was named Chair of the Assembly Committee on Parks, Water and Wildlife.
Out on the water WiLDCOAST briefed the assemblymember on the Marine Life Protection Act and on power of this state law to increase the recreational, economic and ecological values associated with healthy coastal ecosystems throughout California. Decades of strong fishing pressure, coupled with pollution and coastal development has degraded our once robust coastal ecosystems. Today the state is leading the way towards coastal ecosystem recovery with its network of Marine Protected Areas (MPAs). With the adoption of the South Coast MPAs in January 2012, the Matlahuayl reserve is one of a network of 50 MPAs spanning the state from Point Conception to the Mexican border. These MPAs represent only 15% of the south coast region's coastal waters but they provide critical refuge for marine species. With the support of local communities and their legislators, California's MPAs have the potential to restore our much degraded and overfished coastal ecosystems for future generations to enjoy.
Our experiences working throughout the Baja California peninsula show us that local communities committed to the protection of their coastal fisheries can be powerful drivers for ecosystem recovery that generates revenue for local business. In Cabo Pulmo, researchers have found a 460% increase in fish biomass in just 10 years within the no-take marine reserve that is strictly enforced by the local community. Today the recovered coastal ecosystem generates revenue in the form of eco-tourist dollars for the residents of Cabo Pulmo.
WiLDCOAST looks forward to continuing to partner with Assemblymember Hueso and our other California legislators to strengthen protections for our spectacular coastal and marine ecosystems and wildlife.
Special thanks to David from Hike, Bike and Kayak at La Jolla Shores!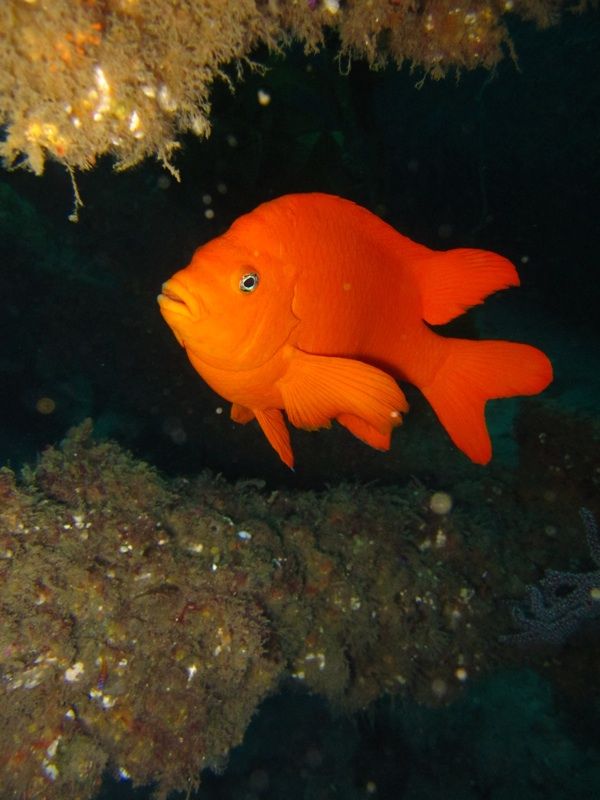 Garibaldi, California's state fish.
Aerial view of La Jolla, CA