December 23, 2010
WiLDCOAST Achievements 2010
WiLDCOAST Staff and supporters
On the Los Cirios Coast, one of the last wild Pacific coastlines in Baja California, we conserved 1,183-acres and 2.9 miles of shoreline. We also partnered with Mexico's National Protected Area Commission (CONANP) to preserve an additional 87,900 inland acres that are home to Baja's unique Boojum trees.
To reduce the amount of ocean bound trash that reaches the Pacific Ocean, in October we convened the first Tijuana River Action Month. As a result we organized more than 2,812 volunteers to remove 2,324 tires and 56.5 tons of trash from the Tijuana River Watershed.
Thanks to our advocacy San Diego Regional Quality Control Board has identified funding to conduct beach water testing and identify the sources of south swell pollution north of the U.S.-Mexico border. We reached out to a total of 80,000 people to support the development of a system of marine protected areas of the coast of Southern California.
In partnership with the Mexican government and the Mexican Sea Turtle Center, we provided training and technical support to help the indigenous community of Playa Ixtapilla protect one of the most important nesting beaches worldwide for olive ridley sea turtles. More than 200,000 sea turtles nest there every year.
To protect the fragile coral reef located within Cabo Pulmo National Park, in Baja California, we carried out a campaign to pressure authorities in Mexico to cancel the Spanish "Cabo Cortés" mega-development. The campaign reached an estimated 300 million people worldwide. All that public pressure resulted in the Mexican government temporarily suspending Cabo Cortes' building permits.
We removed a total of 114,000 pounds or 57 tons of ocean bound trash from coastal ecosystems in 2010.
We organized a coalition of 15 environmental organizations to successfully defeat a proposal to place a 300-MW power plant in the 8,000-acre Otay Valley Regional Park (OVRP).
We worked with the California Sustainable Seafood Initiative as a member of the Advisory Panel for the creation of a sustainable seafood label/designation and marketing program for California fisheries.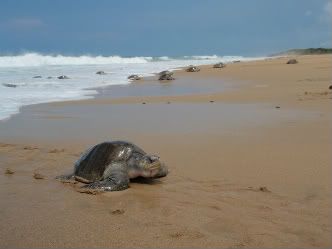 To reduce the trade in black sea turtle meat and eggs, we continued our "Don't Eat Sea Turtle" campaign in Mexico, which included signing agreements with local governments and broadcast networks to transmit the campaign's Public Service Announcements on a regular basis.
To help protect hammerhead sharks from overfishing, we cosponsored a hammerhead conservation proposal to the Mexican Scientific Authority of the Convention on International Trade in Endangered Species of Wild Fauna and Flora (CITES) convention in Qatar. Fauna and Flora (CITES) convention in Qatar.
Our efforts to conserve the coast and ocean were reported on by 362 media outlets from the Televisa, TV-Azteca, Univision and Telemundo television networks, to CNN, the Spanish World News Agency, French News Agency, Associated Press, Latin American Herald Tribune, San Diego Magazine, Surfer Magazine, Los Angeles Times, San Diego Union, Yahoo.com, among others.
We launched a major initiative highlighting concern on overfishing of endangered shark populations and the importance of white sharks in ocean ecosystems. This campaign was featured on Mexico's major national TV network, Televisa, and the Discovery Channel's Shark week, reaching tens of millions of people in the U.S. and Latin America.
We educated more than 975 students about the importance of conserving the Otay Valley Regional Park. In the Otay Valley Regional Park we worked with 540 volunteers to remove 1,977 pounds of trash and plant 200 native plants.
WiLDCOAST's field staff, Juan Vargas and Catalina Porras, received Mexico's Nature Conservation Award for their efforts to reintroduce the California condor to the wild in Baja California.
We reached out to more than 7,000 students in remote communities surrounding San Pedro Martir National Park on the importance of protecting Baja's condors.